Holland is the country of bicycles par excellence. The flat territory, the short distances, the mild climate and the excellent infrastructures make the bicycle extremely popular.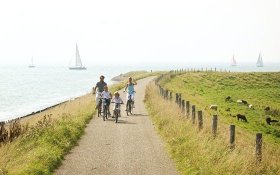 With over 32,000 kilometers of cycle paths, Holland is a great country for cycling.
Rent a bike and discover the most beautiful corners of your destination.
Book a cycling holiday and enjoy the wonderful Dutch landscapes.
Cycling safely
In the Netherlands the bicycle allows you to move safely, easily and relaxed. There are more than 32,000 kilometers of cycle paths that allow you to reach anywhere. There is also a network of cycle paths indicated by cycling routes and LF routes (Landelijke Fietsroutes, national cycling routes), which cover approximately 30,000 kilometers. The signage for cyclists is excellent, getting lost is practically impossible. Last but not least, the Dutch are accustomed to the presence of cyclists in traffic and pay close attention to them.
Bicycle rental
Cycling is probably the most fun way to explore the Netherlands. Discover the most attractive cycling routes around Rotterdam, The Hague, Utrecht and Amsterdam, through marvelous natural parks such as the Hoge Veluwe and along the most beautiful windmills in the world.
You can rent bicycles at various locations, such as near large stations, in the center of large cities and usually also at your accommodation. The rates for bike rentals vary from 9 to 15 euros per day.
Suggestion: rent a simple bicycle with a single ratio and / or with a coaster brake, relatively easy to use.
In addition to renting a bike, you can opt for an organized bike tour accompanied by a guide, for an informative and fun experience. For information on this you can contact the rental company or a local tourist office (VVV).
Cycling in Amsterdam
Renting a bike  during your stay in Amsterdam is an experience not to be missed. Drive along the most beautiful routes in Amsterdam, pedaling along the charming canals, in Dam Square, next to the Rijksmuseum; or reach Edam from Amsterdam by bike. Here are some useful addresses for renting bicycles:
• MacBike Amsterdam – at Central Station and at Waterlooplein 99
• Yellow Bike – Nieuwezijds Kolk 29 and Oudezijds Armsteeg 22 (3 minutes walk from Central Station)
• Bike City – Bloemgracht 90 (in the Jordaan district)
• Rent-a-Bike Damstraat – Damstraat 20
 Cycling holidays
If you love cycling and want to discover the wonders of Holland in an extraordinary way, a cycling holiday is definitely for you. Usually cycling holidays are inclusive of overnight stays, luggage transport and possible bike hire. You can take beautiful itineraries cycling along the coast, crossing landscapes surrounded by nature and admiring the traditional symbols of Holland. View the offer and book your cycling holiday in the Netherlands.