It's finally here! After years of planning and excitement, our TrainerRoad teams are finally in South Africa for Cape Epic, an aptly-named 8-day mountain bike stage race over 619 km (385 miles). Let's meet our team members and take a look at each stage they'll face in this incredible race.
Check out our latest Cape Epic updates on Youtube, on Spotify, or on your favorite Podcast App.
---
The Teams
Cape Epic is a team event, so good strategy and communication are nearly as important as fitness and technical prowess. We have 3 teams entering the race, each with varying levels of experience and a unique set of skills. Which team do you think will finish first? Meet our racers in the video below, or read on to learn more.
Team 1- Rob Hobson and Rossouw Bekker are TrainerRoad support agents, South African natives, and experienced elite-level mountain bike racers. While neither have ridden Cape Epic before, they know the local terrain quite well and both have an FTP around 5.5 – 5.6 w/kg—two factors likely to help them set the fastest time of our three teams, barring unforeseen events.
Team 2 – TrainerRoad COO Brandon Nied and Ask a Cycling Coach Podcast host Jonathan Lee bring similar power profiles, sharing an FTP around 5.1 w/kg. Brandon is a better climber, but Jonathan is a better descender, so their skills may balance each other out in the end. While they've trained together many times, both Brandon and Jonathan have busy jobs and young families and they haven't ridden trails together much lately. They're a wildcard, but we certainly wouldn't count them out.
Team 3 – TrainerRoad CEO Nate Pearson 4.2 and Professional Cyclist/ Olympian/ 5x Argentine national champion Sofia Gomez Villafane. Undoubtedly the most mismatched team of the three, Sofia brings absolutely world-class skills, fitness, and experience. Nate is considerably less confident on technical terrain, and a tough year with less training than he'd hoped leaves him below peak fitness. At the very least, we're excited to see how they work together, and we're taking bets on whether Nate rides himself into fitness (or crashes) over the course of the week.
---
The Stages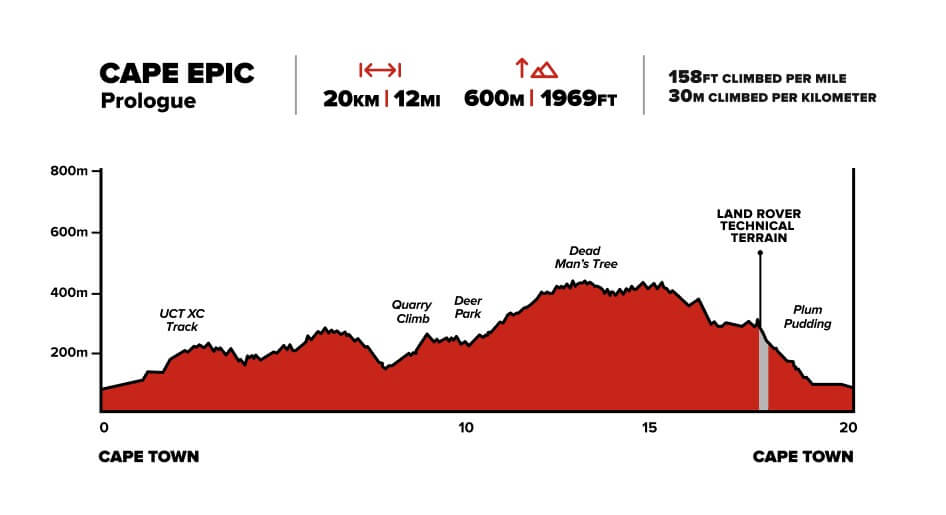 Prologue – Sunday, October 17, 2021 – 20 km
This short opening race is only 20km, but includes several steep climbs and few notoriously technical sections. The steep Plum Pudding downhill isn't extremely difficult, but due to the stage's short length and the excitement of the race's first day our racers may be at risk of overdoing it. No one will win Cape Epic during the prologue, but you could certainly ruin your race here with a bad crash. Expect our teams to finish in 45–60 minutes unless something goes wrong.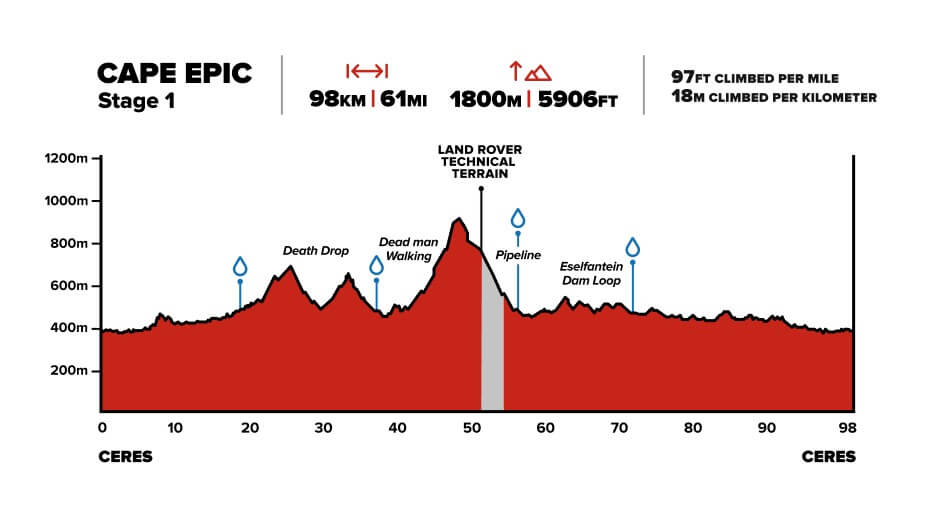 Stage 1 – Monday, October 18, 2021 – 98 km
After a 1.5h drive, this first full-length stage takes place in a remote, beautiful area, and features comparatively little climbing to the days that follow. But competitors can't get too complacent, with the tough Dead Man Walking climb falling right in the middle. After the climb the stage appears relatively flat, but these trails are sandy and twisty and will make racers work for every kilometer. Our teams will probably take between 4.5 and 5 hours to finish.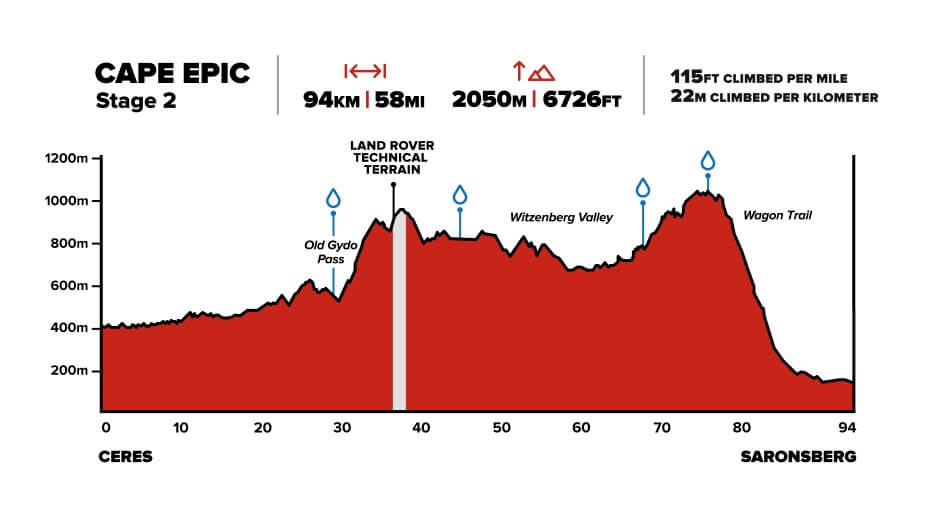 Stage 2 – Tuesday, October 19, 2021- 94 km
This unique stage is designated as the queen stage and includes a serious ascent up Old Gydo Pass. After facing rolling terrain into the Witzenberg Valley, racers head up another long climb before facing a huge descent to the finish. Tired legs may make these climbs quite interesting, and while the final descent isn't particularly technical it'd be a dangerous place to let your guard down. Our teams are likely to spend 4.5–5.5 hours racing here.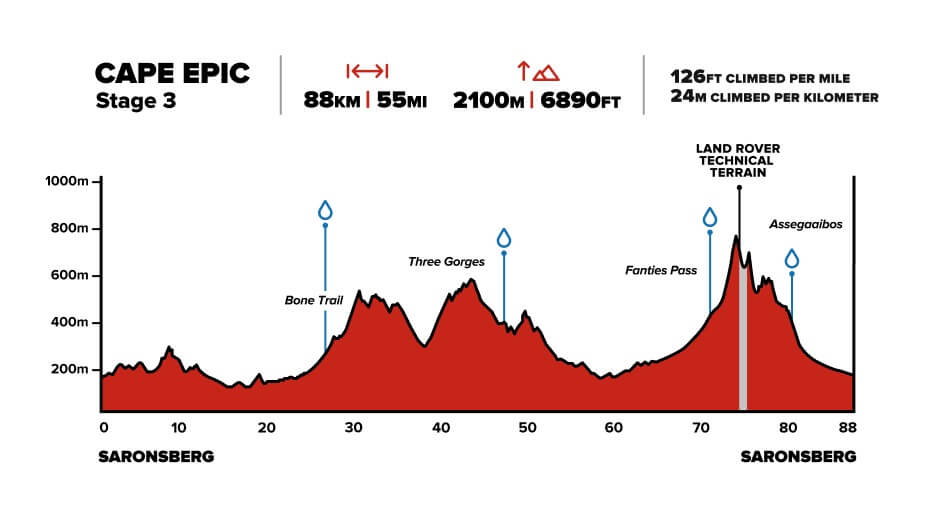 Stage 3 – Wednesday, October 20, 2021 – 88 km
Though this stage is shorter than the two that precede it, it also features more climbing, including a winding singletrack ascent that feels like it will never end. A fun descent into a valley sets our racers up for another difficult climb, with an unusual technical trail at the top through an isolated patch of forest. Teams with good legs might finish in 4 hours, tired teams may take 5.5 hours or longer.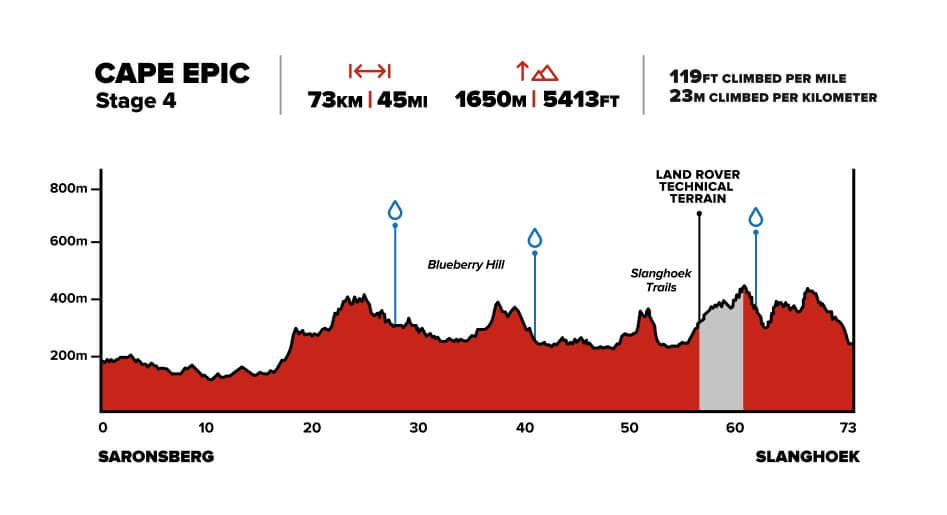 Stage 4 – Thursday, October 21, 2021 – 73 km
This relatively short transfer stage appears to offer something of a respite for tired racers. But it's likely to be a very fast day over rolling parcours, with teams at the front keeping the pace high from start to finish. There are no major climbs, but sandy and rocky terrain will keep things interesting. Fast teams should complete it in about 3 hours, but it could take 4 hours or more if you can't hold the pace at the front.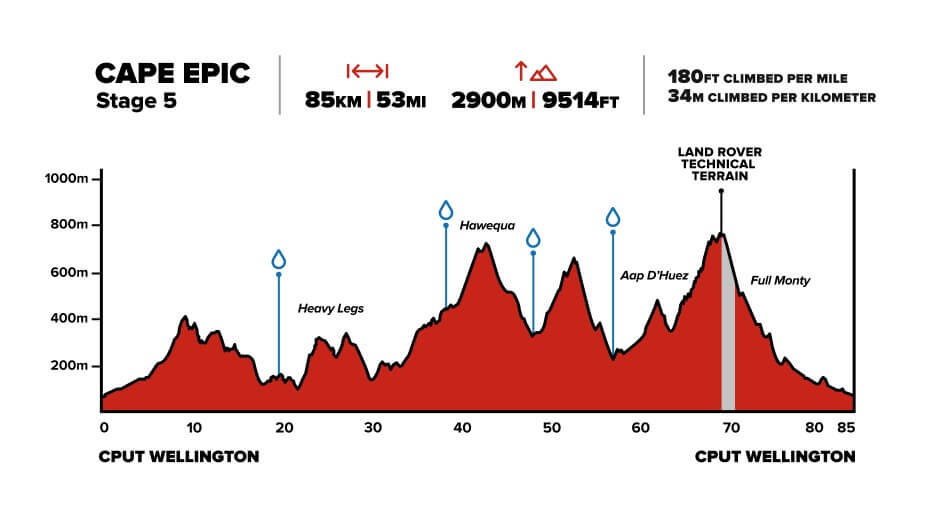 Stage 5 – Friday, October 22, 2021 – 85 km
Though not officially considered the queen stage, this monster stage is likely to be the hardest of the race and features the most vertical ascent per km of all. It includes at least 5 major climbs, cruelly arranged with each more difficult than the last—luckily, the descents between are relatively easy and non-technical. This stage is likely to be a turning point for many teams, with fatigue possibly setting some racers far behind, while good legs help others widen the gaps to their competitors. Fast teams might finish in 4 hours, slower teams in 5.5 hours or even longer.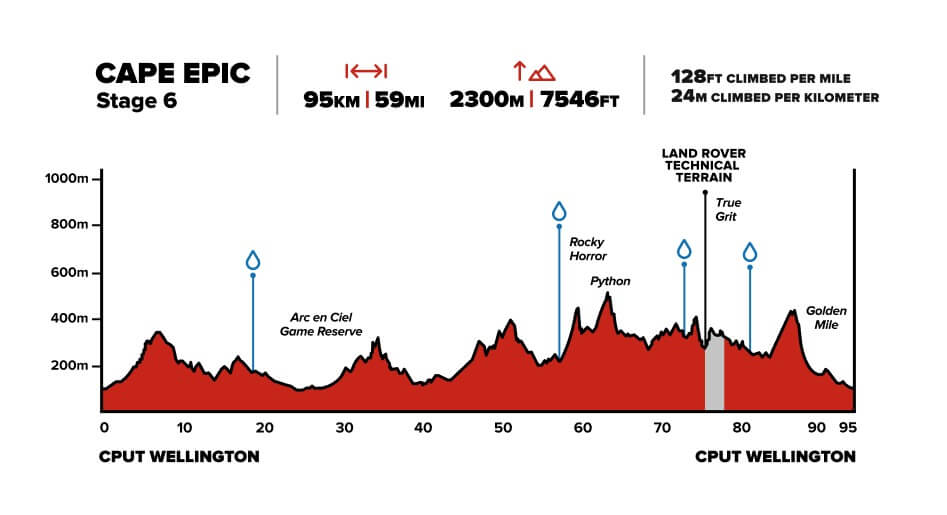 Stage 6 – Saturday, October 23, 2021 – 95 km
On the heels of a truly brutal day, this stage makes up for a lack of serious climbs with a long, roller-filled parcours. Punchy riders will be well-served, though it may be a hard day to slip away as the pace will likely be quite high, especially if time gaps are tight. Limited lines of sight on a few small descents could shake things up.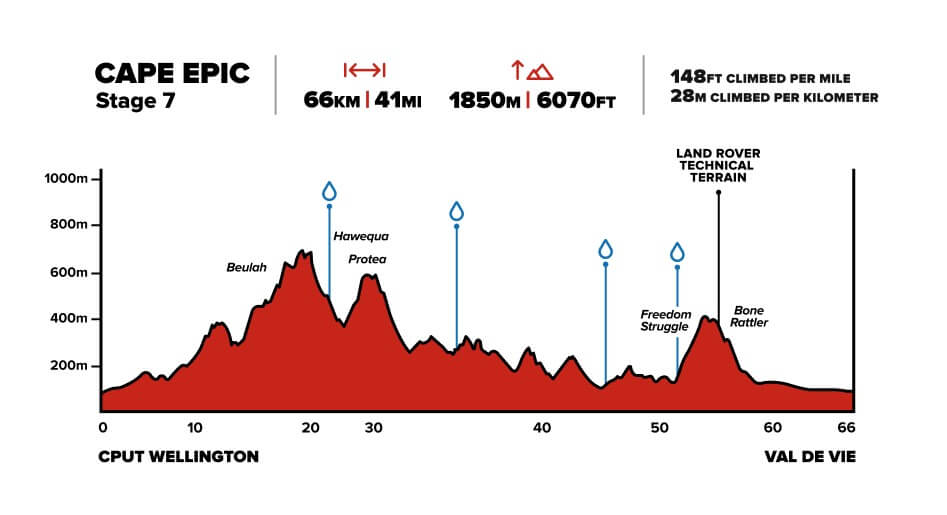 Stage 7 – Sunday, October 24, 2021 – 66km
Finally, the race comes to a close with a stage that's a lot harder than it looks. A series of small but punchy climbs lead to an aptly-named final descent called "Bone Rattler," a high-speed fire road littered with big rocks just waiting to puncture tires. By this point racers will be exhausted and ready to be finished, but letting your guard down here could be catastrophic. Fast finishers will be done in 3 hours, but 4.5 hours or more will be realistic for many.
---
Follow Along With All The Cape Epic Action!
Each day during Cape Epic we'll be publishing a short podcast recapping the day's events, as well as updating this blog post with all the details. Check in each day to see how our teams fare as they tackle this brutal, relentless event! You can also head over to the TrainerRoad Forum, where we'll be discussing all the action as it happens. Finally, follow along on Instagram for frequent updates.